The Recording Academy today announced the winners of its annual Special Merit Grammy Awards, with Steve Jobs being named a recipient of a Trustees Award for 2012. The Trustees Award category is designed to recognize those who have made significant contributions to music in areas other than performance.
As former CEO and co-founder of Apple, Steve Jobs helped create products and technology that transformed the way we consume music, TV, movies, and books. A creative visionary, Jobs' innovations such as the iPod and its counterpart, the online iTunes store, revolutionized the industry and how music was distributed and purchased. In 2002 Apple Computer Inc. was a recipient of a Technical GRAMMY Award for contributions of outstanding technical significance to the recording field. The company continues to lead the way with new technology and in-demand products such as the iPhone and iPad.
A ceremony honoring the winners of Trustees Awards, Lifetime Achievement Awards, and Technical Grammy Awards will be held on Saturday, February 11th, with special recognition also being made during the main Grammy Awards ceremony the following day.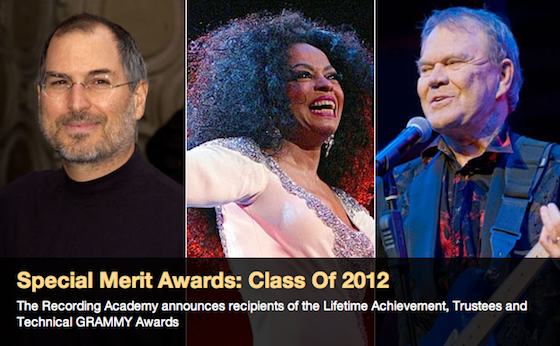 Jobs is one of several recipients, including Brazilian composer and arranger Antonio Carlos Jobim, spoken word soul performer Gil Scott-Heron, and audio engineer Roger Nichols, who will be honored posthumously.